General
Disembarking passengers are not required to present vaccination certificates except when coming directly from an area infected with cholera, yellow fever or smallpox. It is an offence to furnish false or misleading information under the Fiji Health Quarantine Act.
Yellow Fever Vaccination Certificate
A yellow fever vaccination certificate is required from travellers over one year of age entering Fiji within 10 days of having stayed overnight or longer in infected areas.
Prohibition on introduction of Disease Agents

The introduction into Fiji of mosquitoes, their eggs and larvae, and all disease germs, microbes and disease agents capable of producing disease in human beings and all cultures, viruses and substances containing or likely to contain disease germs are prohibited. Microbes or disease agents are prohibited unless, in the case of any virus or culture, the Health Quarantine Authority (HQA), on the production of satisfactory evidence of the absence of danger to public health, permits their introduction, and then only, subject to such conditions as HQA may specify.

Importation to Fiji of Rags, Secondhand Clothing and similar products.

The importation into Fiji of rags, secondhand clothing or secondhand bedding is prohibited unless such rags, secondhand clothing or secondhand bedding:
Are accompanied by a Fumigation Certificate from HQA in the country of origin stating that such rags, secondhand clothing or secondhand bedding have been properly disinfected immediately prior to being exported; and
If there is no such certificate the items will be fumigated by HQA at the expense of the exporter or incinerated.
Dengue Fever
Travellers coming from areas affected by epidemics of dengue maybe subjected to screening by HQA on arrival.
Importation into Fiji of Human Remains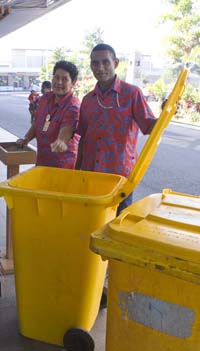 The importation into Fiji of Human Remains is prohibited, unless such human remain is accompanied by following an approval in writing obtained by the Health Quarantine Authority of Fiji prior to it being uplifted and transported from the country of origin:
Death Certificate from a Medical Practitioner or designated hospital where the deceased person died confirming that the death of the deceased is not from any infectious disease; or
Embalming Certificate from the prescribed Hospital Pathological Laboratory verifying that the remains is safe and is in hygienic condition; or
Certificate from the Registered Funeral Director of the country of origin stating that the casket of the remains is hermetically sealed as required by the Health Quarantine Authority, before it is transported and uplifted in the respective aircraft to Fiji.
Prohibition to Bring Holy Water to Fiji

Any person arriving in Fiji must declare any Holy Water in his or her possession in the Health Arrival Card. Upon arrival the Holy Water will be detained by the Health Authority for a period of 21 days before release. Public Health Requirements.